Búsqueda personalizada
---
THE THERMAL BATHS OF HUALALACHI
---
The thermal baths of Hualalachi estan to minutes of TALAVERA way. Perhaps the waters of this spring are not as hot as those of CHURIN, but they maintain a temperature over the medio.ambiente, which allows the body to enter a relaxation state, which makes recommendable for the treatment of the nervous diseases.
---

To think that detras of that facade are the thermal baths of Hualalachi.
---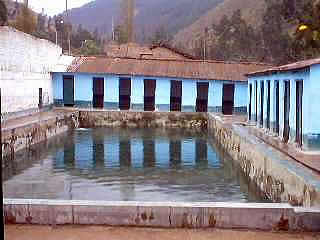 Segun our guide, the people of the place is used to taking baths in nobody epoca from the year but with a noticeable predilection by the important dates like the Easter or the NEW YEAR.
---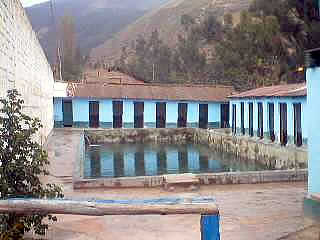 Taking baths in important dates this becoming custom for the villagers, asi also agrees that for those dates the water begins to evaporate which generates an atmosphere mistico.
---

One is not due to think that people take baths single from day, comment to me that for the important dates they can take baths until at night, not concerning the hour; until at daybreak.
---

No, they are not scared, is by aqui by where the exit of the water has been canalized, which posteriormete is taken to the swimming pool.
---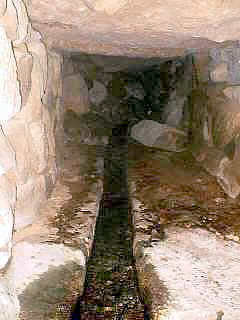 The water that flows of this spring has very special characteristics. Personally I am not a water expert, but by the flavor I can affirm that it is looked much like one good well-known mineral water of the south, especificamente of the Republica of Arequipa; excuse, I meant of the Department of Arequipa.Para to continue with the tradition occurred me to drink a glass of these waters, with which the villagers assure my return. It is to say that the one that drinks of these waters returns to HUALALACHI.
---
As they habran been able to appreciate, I am not very friend to carry out recommendations, but for the development of this section I must thank for the facilities offered by the friend Juan Ortiz, asi like a sincere recognition to the Recreation Rustic Restaurant HUALLPA, whose specialty is the chactado guinea pig, with its trimming of huayros Popes gilded, and accompanied with a salad by col; I must need that this guinea pig, is one of the best ones than I have proven throughout our mother country, and to think that the one that prepared my mother was considered by my like the best one of all, very good!!!!!. And if by algun reason arrives at this zone I recommend to them visit this restaurant with time, with the purpose they prepare its order opportunely to them and they are taken care of as it must be.
---
---
Página web creada el 30 de marzo del 2005.
© Copyright 2005 Gualberto Valderrama C.