Búsqueda personalizada
---
Welcome to ANCASH !!
---
The department of Ancash extends from a coastal strip up to the highest snow-covered mountains of Peru. In the Callejon de Huaylas, dazzling valleys are nestled between two mountain ranges: the Cordillera Blanca and the Cordillera Negra. You will find gentle picturesque cities like Recuay, Carhuás, Yungay and Carás. The city of Huarás, capital of Ancash, is the local commercial and urban centre.
In this region, the Chavin culture settled between years 1200 and 200 BC, leaving the legacy of an impressive archaeological complex named Chavin de Huántar, declared by UNESCO a World Cultural Heritage in 1985.
Alongside the whole area you will come across the most spectacular glaciers, including the Huascaran (6768 meters), the highest peak in Peru. Also, you will find hot springs and spectacular lagoons as the Llanganuco. The area is ideal for adventure sports such as canoeing, climbing, mountain biking or hiking.
The Huascaran National Park, declared a Natural World Heritage by UNESCO, protects this beautiful scenery where you find wild species as the condor, the vicuna, deer, puma, the andean fox and the vizcacha.
Page translated by courtesy of: Carlos Dextre.
---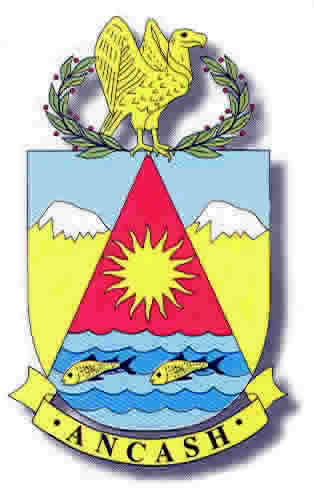 COAT OF ARMS OF THE ANCASH DEPARTMENT
POLITICAL DIVISION
Capital of the Department: Huaraz
20 provinces and 166 districts.


PROVINCES
CAPITAL
DISTRICTS
AIJA
AIJA
5
ANTONIO RAYMONDI
LLAMELLIN
6
ASUNCION
CHACAS
2
BOLOGNESI
CHIQUIAN
15
CARHUAZ
CARHUAZ
11
CARLOS F. FITZCARRALD
SAN LUIS
3
CASMA
CASMA
4
CORONGO
CORONGO
7
HUARAZ
HUARAZ
12
HUARI
HUARI
16
HUARMEY
HUARMEY
5
HUAYLAS
CARAZ
10
MARISCAL LUZURIAGA
PISCOBAMBA
8
OCROS
OCROS
10
PALLASCA
CABANA
11
POMABAMBA
POMABAMBA
4
RECUAY
RECUAY
10
SANTA
CHIMBOTE
9
SIHUAS
SIHUAS
10
YUNGAY
YUNGAY
8

SURFACE: 35.826 KM2
CAPITAL: Huaraz 3.027 msnm
CLIMATE: Semitropical and tempering.
TEMPERATURE: Medial annual 16,2 degrees Celsius.
DISTANCES: From Huaraz - To Lima 408 km.
From Huaraz - To Trujillo 335 km.
From Huaraz - To Cajamarca 636 km.

---
---
Página web creada el 30 de marzo del 2005.
© Copyright 2005 Gualberto Valderrama C.