Búsqueda personalizada
---
THE PACUCHA LAGOON
---
"The lagoon of Pacucha" is considered like one of but the great and beautiful lagoons of Peru.
This lagoon this located in the District of Pacucha, which is to 15 km of the capital of the province of Andahuaylas to an altitude of 3.125 m.s.n.m. located between the coordinates: 13°36´27´´ South latitude and 79°19´30´´ west longitude, has an extension of 152,00 you have.
Its importance are also in virtue to that their volume and nutritious components of their waters is productive, at the present time comes explotándo different ícticas species like the trout, lacustrine pejerrey, carp common and rainbow, generating therefore new work and power supplies in benefit of the populations of the place.
The water of the lagoon of Pacucha has a minimum temperature of 15°C in the months of June and July and Maxima of 19°C in the months of March and April.
Their dimensions are, maximum length 3.970 ms in the axis this - west; wide maximum 2.680 ms; Maxima depth 30m, volume 118´010,495 m3.
---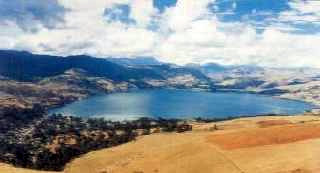 He is facil to arrive at the district of Pacucha, because from Andahuaylas it is counted on the terrestrial transport service. The lagoon is to an altitude of 2.895 m.s.n.m., the climate is tempered and the color of waters is blue like the sky that on her cierne.Foto Arturo Gutiérrez Velasco.
---

Pacucha has an approximated surface of 17 km square, is feasible to practice all the acuaticos sports, in special the fishing of LACUSTRINE PEJERREY OF RIO Or, which can get to measure up to 50 cm. In Pacucha one can lodge in ALBETUR, which is a turistico shelter, which has all the comforts and is administered by the regional government and has been prepared on which outside the ex- property the LAGUNA.Foto the Republic, Andares.
---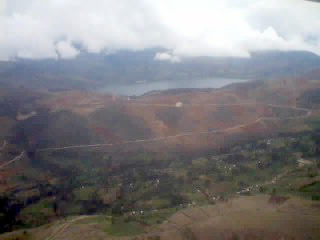 Aerial photo, in which the highway is appraised that leaves Andahuaylas and allows the arrival to this beautiful lagoon.
---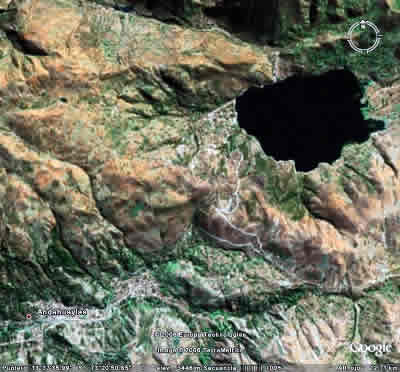 Panoramica photo Google Earth.
---
---
Página web creada el 30 de marzo del 2005.
© Copyright 2005 Gualberto Valderrama C.