Búsqueda personalizada
---
WELCOME!
AREQUIPA
---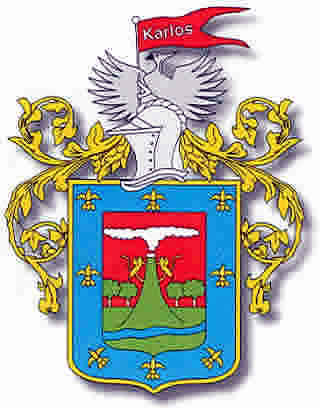 ESCUDO DEL DEPARTAMENTO DE AREQUIPA
---
The department of Arequipa presents/displays a varied relief. One begins in the coastal desert and one rises in the $andes reaching high altitude in the tops of his snow-covered and volcanos.
Well-known like the White City by its beautiful white walls of sillar, a stone of volcanic origin, Arequipa rest in the skirts of imposing volcanos Chachani and Misti and of the snow-covered Pichu Pichu. In downtown, declared Cultural Patrimony of the Humanity by UNESCO in 2000, temples and colonial large houses of racially mixed baroque style can be seen, as well as the Monastery of Santa Catherine, a Spanish city in miniature with stone side streets, beautiful patios and seats. Sabandía, Tiabaya and Tingo, in the countryside, are places of forced visit, and the irresistible gastronomy arequipeña is the perfect complement of the visit.
Located to only 3 hours and 45 minutes of the city, the Valley and Tube of the Colca are one of the most extraordinary destinies of the country. In all the zone colorful cultivated platforms can be seen preíncas until today with quinua, maize, barley and wheat. At pre-Hispanic times the department was inhabited by Collaguas and Cabanas; today, the inhabitants have known to conserve their colonial churches like those of Yanque, Lari and Madrigal and continue dressing in beautiful suits. In the valley in addition, sports of adventure like mountain cycling, trekking and canotaje practice, and in the Cross of the Cóndor the majestic flight of the cóndores can be appraised.
Other places of interest in the department are the Petroglifos de Died Toro, the valley of volcanos of Andagua and the Tube of Cotahuasi
DIVISION POLITICA
Capital of the Department: Arequipa
08 provinces and 108 districts.


PROVINCE
CAPITAL
DISTRICTS
AREQUIPA
AREQUIPA
29
CAMANA
CAMANA
8
CARAVELI
CARAVELI
13
CASTILLA
APLAO
14
CAYLLOMA
CHIVAY
19
CONDESUYOS
CHUQUIBAMBA
8
ISLAY
MOLLENDO
6
LA UNION
COTAHUASI
11

SURFACE: 63.344 KM2
CLIMATE: Pleasant tempering and, sun almost all the year.
TEMPERATURE: 25 and 10 centigrados degrees
DISTANCES: Arequipa - Lima 1.009 km
Arequipa - Cusco 830 km
Arequipa - Puno 294 km

---
---
Página web creada el 30 de marzo del 2005.
© Copyright 2005 Gualberto Valderrama C.