Búsqueda personalizada
---
MATUCANA
---
Located in the valley of the Rimac river. Kilometer 75 of the highway Centers (2 hours in car). To an Altitude of 2.389 msnm. The climate is dry and tempering with a temperature average of 27º C in summer and until 19º in winter.
Ideal place for the practice of the long walks, the tourism of adventure and nature. The natural reserves, landscaping resources and archaeological sites of important cultural testimony predominate.
To his arrival it will find the bridge "Eduardo de Habich" and the arc of welcome red. The visit to the Church of San Juan is recommended Baptist, built by the jesuitas parents during the years of the colony. Crossing his narrow stone streets, it will be able to appreciate the colonial large houses with beautiful balconies.
During its route, we recommended the visit to the old station, until that the trains arrived from the service Lima - Matucana, and step forced for the trains that come from the Basket bringing mineral. Its origin dates from the beginnings of the industry of the railroads in Peru, 1851.
---
ANTANKALLO CATARACT
---
Way to cascades of Antankallo (2 hours of ascending way from Matucana) is observed a beautiful countryside surrounded by apple trees and fig trees, hills with the form of lion head and the face of Christ, caves where the shepherds of the zone spend the night, a suspension bridge and mainly the calidez of its people. When arriving at the cascade one can bathe in its base. About ten minutes but above it is arrived at the well-known cascade like tobogán of Cambo. To the return one can buy fresh milk in the stable that this in the way. Visit Matucana, will enjoy it.
---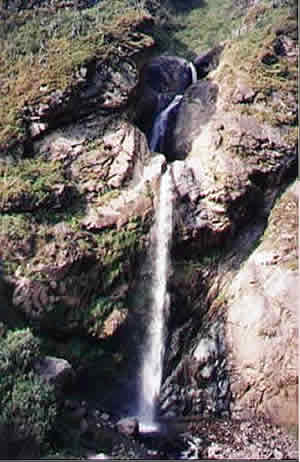 ANTANKALLO CATARACT
Photo courtesy of: http://www.mysticaltrekking.com
---
---
Web site created on march 30 of 2005.
© Copyright 2005 Gualberto Valderrama C.