Búsqueda personalizada
---
MAP OF THE ICA DEPARTMENT
---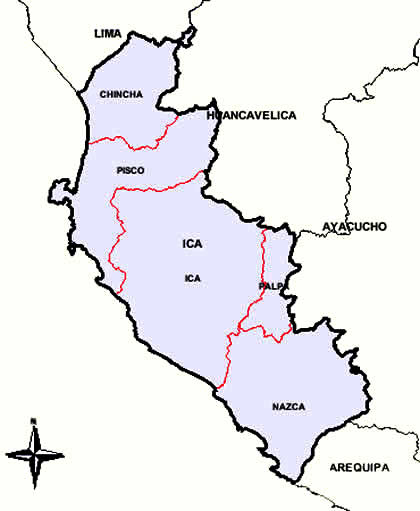 ---
In this map of the Department of Ica, it is possible to be observed the 05 provinces whereupon it counts. The attractive turisticos that to continuation are going to be able to see present/display following the order of north the south.
It is to say we will begin by the province of Bothers, soon to happen to the province of Pisco, but ahead the attractiveness of Ica would be veran, finally to see groso way the attractive turisticos of Is born.
---
DIVISION POLITICA
Capital of the Department: Ica
5 provinces and 43 districts.


PROVINCIA
CAPITAL
DISTRITOS
CHINCHA
CHINCHA
11
ICA
ICA
14
NAZCA
NAZCA
5
PALPA
PALPA
5
PISCO
PISCO
8

SURFACE: 21.000 KM2
CLIMATE: Sunny and dry
TEMPERATURE: Annual average 19°C
DISTANCES: Ica - Lima 303 km
Ica - Arequipa 711 km
Ica - Tacna 990 km

---
Web site created on march 30 of 2005.
© Copyright 2005 Gualberto Valderrama C.