Búsqueda personalizada
---
COMPLEX ARQUEOLOGICO COLORADO INN
PUCALLACTA Or PUCAHUASI
---
The Archaeological Complex Colorado Inn was an Administrative Center of the Incas, in the throat of the Valley of the Pisco River.
One is located to about 265 kilometers to the south of the city of Lima, by the South Pan-American Highway; in the Town of San Clemente, the Highway is born "the Huari Liberators", by whom it is acceded to the city of Ayacucho. 37 kilometers to the east, after happening through the Towns of Independencia and Humay, we arrived at the Architectonic Complex Colorado Inn.
Red inn is a site very visited by national and foreign tourists. Account with an exhibition hall that presents/displays some of the objects found in the site, as well as flat and scale models that show the total extension of the same one.
The site this also related to the way Inca, even though this was used like highway, in the last years, the presence of several investigators done that has allowed to improve the registry of the same one, because they have been elaborated flat detailed and restricted archaeological excavations to the interior of the site have taken place.
Colorado inn has the ruins of marinates better conserved of all Peru, needing only the ceilings and showing it many walls with hornacinas painted of red and yellow.
It is by the predominance of the red one, that the set has received east name. It presents/displays several enclosures to way of lodgings for permanent civil employees, his chasquis or post office of a foot and also for a small army. Also it is discovered warehouses or deposits. They emphasize in the set the call Temple of the Sun, the Acllahuasi or Monastery of the solar virgins, the palace that is created was mansion of the Maxima authority and a swelling seat with more than fifty trapezial hornacinas. This set is to 800 msnm and is a sun site constant.
The MINCETUR in coordination with the INC. one has initiated the Putting in Value of this archaeological monument.
Source: MINCETUR
---
COMPLEJO ARQUEOLOGICO TAMBO COLORADO
Museo de Sitio y Playa de Estacionamiento
---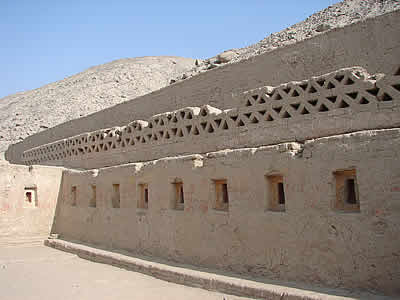 COMPLEJO ARQUEOLOGICO TAMBO COLORADO
---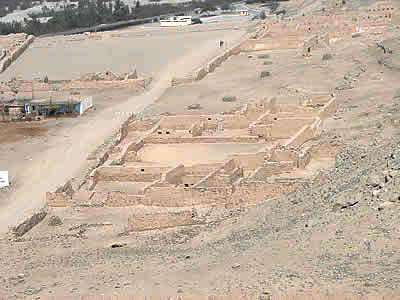 COMPLEJO ARQUEOLOGICO TAMBO COLORADO
---
---
Web site created on march 30 of 2005.
© Copyright 2005 Gualberto Valderrama C.