Búsqueda personalizada
---
CARAZ
---
Caraz is one of but the important towns of the alley of Huaylas. Also it is known like Caraz Dulzura.
Caraz is the capital of the province of Huaylas, and comprises of an important chain of towns located in the Alley of Huaylas, which estan united by a highway that begins in Conococha and finishes in Huallanca.
Caraz is to 19 km of Yungas, is the second city in importance of the Alley of Huaylas; after Huaraz, it is good climate all the year old; registering a temperature average between the 16 and 25 degrees Celsius, being its altitude on the level of the 2.256 sea of m.s.n.m.
ATTRACTIVE TOURIST
Caraz counts important attractive tourist, emphasizing among them, the pre-Hispanic establishments of Tumshucaico, Old Town and Inca Huain, places of visit of history students and tourists.
THE SEAT OF ARMS
The seat of arms counts on a temple constructed in stone, as well as a quite old house in whose facade a plate recordatoria indicates that it was there where I lodge the Simón Liberator Bolivar, when in 1824 establecio its headquarters.
THE CHIQUINQUIRA TEMPLE
This temple is famous to contain the linen cloth of a Virgin, with the Boy in arms; accompanied by San Andrés and San Antonio. This linen cloth was brought according to account the tradition by the liberating forces from town of Chiquinquira, in Venezuela.
PARON LAGOON
The lagoon of Parón is the sweet water tank; more important of the Alley of Huaylas, one is on the foot of the snow-covered PARIAH and it is located to 4.185 meters of altitude, with a Maxima depth of 76 meters; taken from the water mirror to the bottom, and its content is considered in 55 million cubic meters.
CARAZ DULZURA
Caraz is well-known by the candy production of excellent quality, emphasizing among them the Manjarblanco and the Cuarteado, which is a mixture of manjarblanco with candies of fruits.
FESTIVE CALENDAR
They emphasize between its celebrations the one of the 20 of January of every year, celebration that is celebrated in tribute of the Virgin of Chiquinquirá.
---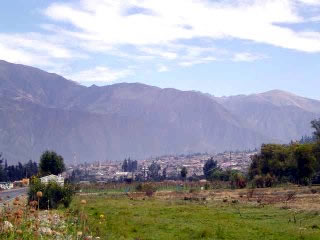 CARAZ DULZURA.
---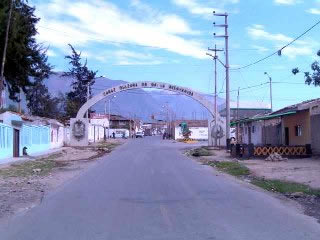 BIENVENIDOS A CARAZ.
---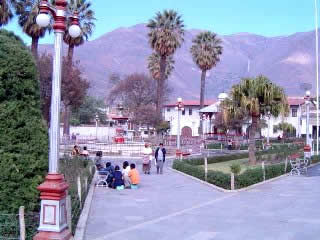 PLAZA DE ARMAS DE CARAZ.
---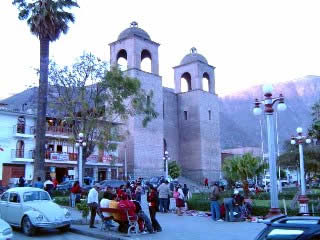 IGLESIA DE CARAZ.
---
---
Página web creada el 30 de marzo del 2005.
© Copyright 2005 Gualberto Valderrama C.