Búsqueda personalizada
---
CERRO SECHIN AND ARCHEOLOGICAL SITE SECHIN ALTO
---
The first part of this page is dedicate to the Temple or Palace of Sechin, the second part this reserved for the Complex Arqueologico de High Sechin.
---
SECHIN TEMPLE OR PALACE
---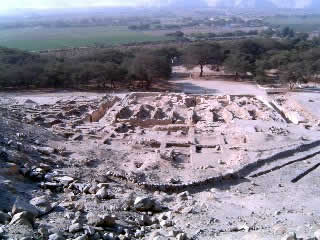 SECHIN HILL, SECHIN TEMPLE, SECHIN PALACE OR SECHIN PYRAMID
---
LOCATION
Sechin is known as Sechin, Cerro Sechin, Sechin Palace, Temple Sechin and some call it Sechin pyramid. It is located on km 371.7 by the Pan-American Highway; from the fork going eastward to Huaraz, advancing straight north 2 kms. Sechin is reached.
BUILDING COMPLEX
It encompasses five buildings, a stone gallery and a semi sunken plaza. Two buildings occupy the centre; the remaining three are located by sides East, South and West, separated by passages.
The central buildings form a unit, although they are built on different materials; the oldest is made of mud, and the other ones of stone, enclosing the previous one. They occupy an area of 2.600 m2.
The old conical adobe building has a sacred chamber in front of an atrium connecting two rooms with large openings and double stairs accessing the North side. The plastered walls were painted blue and pink; also there are murals of two cougars and polychrome bas-reliefs.
In this construction, the temple was amended and extended twice, overlapping new constructions and finally enclosed by the building of engraved stones or steles.
---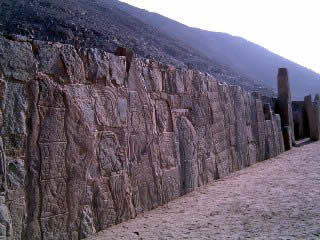 SECHIN HILL, SECHIN TEMPLE, SECHIN PALACE OR SECHIN PYRAMID
---
The stone building oriented south-north, has its walls East, West, North free and partially the South one. Do not forget that, in front there is a sunken plaza to dig.
The square construction is built on granodiorita stones, having curved corners, reaching more than 4 m. tall and is decorated with engraved stones.
The other three buildings partially uncovered are: South Building, and complementary Buildings "A" and "B", also built with stone are plastered and painted.
In short, this political-religious architectural complex, shows a design plan having its origins in La Galgada (Tauca, Pallasca), but its overall structure crystallizes a tradition developed in the basin of Casma.
MURAL ART
Here, the architecture joins the sculpture; all achieved in mud and stone and made in bass-relief, there is no high-relief sculpture.
In the mud building the bass-reliefs were executed over fresh plastering with sharp instrument and great precision, rendering designs with graceful and robust lines, they are: a head character, two fishes, and others partially preserved and difficult to identify. The stone sculpture represented by more than 300 carvings was made in granodiorita by means of designs made with coal and a chisel on black strokes to achieve the incised figures.
The ensemble of motives represented is an allegory to bloody struggles between ancient people in the basin of Casma, their carvings representing a thematic composition of men's ecstasy, euphoria and pain. One can clearly recognize two groups of semi-naked warriors, weapon or scepter in hand, parading from opposite directions toward the front door, led by their own banners, in a triumphant and ceremonial way, while on the floor rests human offal of the vanquished: heads, arms, legs, entrails, etc. presenting a scene of blood, death and horror.
---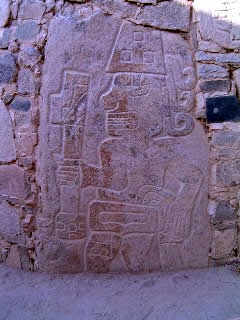 SECHIN HILL, SECHIN TEMPLE, SECHIN PALACE OR SECHIN PYRAMID
---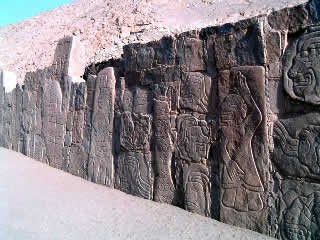 SECHIN HILL, SECHIN TEMPLE, SECHIN PALACE OR SECHIN PYRAMID
---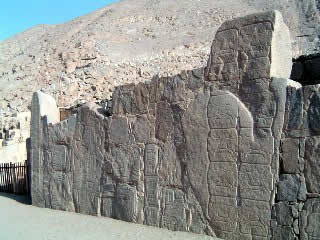 SECHIN HILL, SECHIN TEMPLE, SECHIN PALACE OR SECHIN PYRAMID
---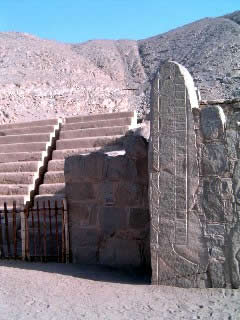 SECHIN HILL, SECHIN TEMPLE, SECHIN PALACE OR SECHIN PYRAMID
---
The arrogant attitude of warriors contrasts with the expressive gestures and attitudes of the vanquished in an overwhelming tragedy. The stone sculpture is figurative - as proposed by Arturo Jimenez Borja- and expressionist, reaching maturity with respect to the mud building without loosing stylistic unity.
Returning to the warriors, they announced changes in the socio-economic and political community and also for the basin of Casma, in the seventeenth century ane, nine centuries before arising Chavin.
---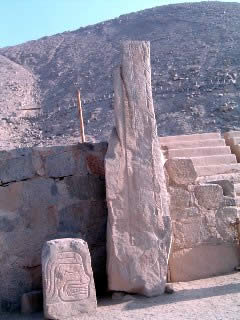 SECHIN HILL, SECHIN TEMPLE, SECHIN PALACE OR SECHIN PYRAMID
---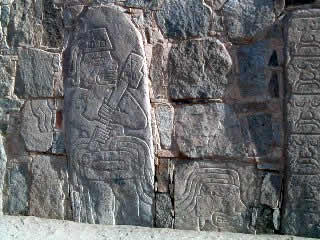 SECHIN HILL, SECHIN TEMPLE, SECHIN PALACE OR SECHIN PYRAMID
---

SECHIN HILL, SECHIN TEMPLE, SECHIN PALACE OR SECHIN PYRAMID
---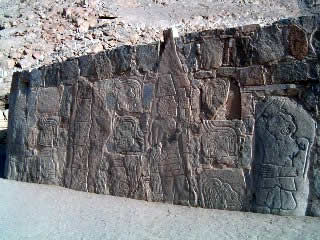 SECHIN HILL, SECHIN TEMPLE, SECHIN PALACE OR SECHIN PYRAMID
---
SUMMARY
Sechin was a farmer's village with an important political-religious architectural complex. Its architecture and sculpture, the best known up to today, defines a distinct cultural tradition.
They used mud and stone with special skill and art. Initially, they preferred mud; according to Arturo Jimenez Borja: its plasticity creates a building that "proclaims a quiet willingness, good life and land loving, without edges, having the sweetness of a valley in harvest ".
They used stone to represent what it was not possible to do with mud: the human drama of war. The expressive force of the figures recorded is a plastic achievement rarely achieved in the pre-Columbian American art.
Sechin, on the whole, presents us with a nation with a rich cultural background, divided into emerging social classes: priests and warriors assuming the leadership of the community, while artisans, farmers and perhaps prisoners of war, dependent. The development of Sechin occurred during the Early Formative years (2000 to 1000 in our history), consolidating in Casma a society on new socio-economic and political foundations, managing to build an integrated Culture with the same name across the whole coast of Ancash.
PRE-INCA MEDICAL SCHOOL
Alfonsina Barrionuevo, said that Doctor Victor Paredes Ruiz defines Sechin neither as a temple nor the memorial of a tragic action (a battle), but as a testimony of the level of science and art to which came the human groups of the area, regarding their knowledge of anatomy and dissection. Paredes Ruiz says that there are more than 90 engravings of decapitated heads with eyes closed and a spectacular monolith where the eyes are enucleated showing even vestiges of tears. Other stones display the spine as well as other with the changes that age brings to the stem bone. The pelvis and sacrum are also engraved with amazing perfection. That's not all, next to severed arms and legs appear soft organs such as kidneys, stomach, esophagus and the small and large intestines, exactly copying its bends; also a character showing its belly open live, fastening its viscera with despair.
---
ARCHEOLOGICAL SITE SECHIN ALTO
---
LOCATION
On the left bank of the valley; two km east of the palace of Sechin. It is easy to distinguish the archaeological mounds (buildings) looking like natural hills.
DESCRIPTION
The complex covers an area of 50 hectares, highlighting several artificial mounds, plazas, circulars semi-sunken wells, platforms, trails, etc.
---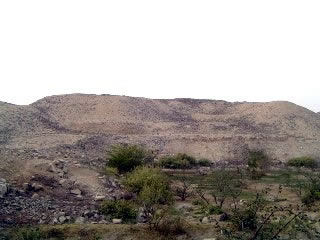 ARCHEOLOGICAL SITE SECHIN ALTO
---
It was first explored by Julio C. Tello in 1937, noting that the largest mound is a Herculean building 300 m. long by 250 m. wide and about 35 m. tall.
Its bottom is built with huge stones, some weighing more than ten tons; it is carved in windows and corners. On the top and central part there is a building made of handmade large conical adobes, retaining some bas-reliefs and polychrome mural painting.
---

ARCHEOLOGICAL SITE SECHIN ALTO - Conical "Adobes" (brick of mud).
---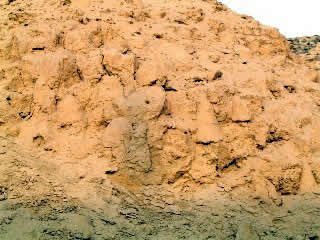 ARCHEOLOGICAL SITE SECHIN ALTO - Conical "Adobes" (brick of mud)
---
The walls, single and double, are built with stones, with wedges of the same material and mud mortar, also kept are plastering with mural paintings and large polychrome bas-reliefs
---

ARCHEOLOGICAL SITE SECHIN ALTO - Walls with stones, wedges of the same material and mortar of mud.
---
Also, it has low stony sculptures with reliefs, like two exemplary recovered in "Carboneria", center populated within the archaeological complex, whose motifs are a human head and the ray, that is exhibited in the Regional Museum of Casma. The building, like the others, has square floor with curved corners and pyramidal form stepped; the unevennesses were solved with staircase, also plastered with mud and painted, in addition diverse rooms and semicircular amphitheatre, in some levels.
---

ARCHEOLOGICAL SITE SECHIN ALTO
---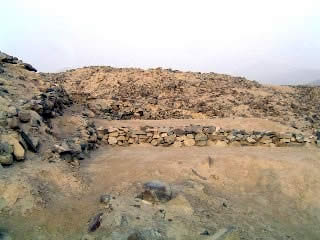 ARCHEOLOGICAL SITE SECHIN ALTO - Terraces
---
It is aligned northwest, with three large diameter semi-circular sunk wells, located equidistant and matching the main front axle of the gigantic construction.
Behind and separated by a flat terrain, there are three smaller buildings laterally united, oriented northwest, with the same characteristics and shape of the main building.
There are other mounds around the area of the archaeological complex, surrounded by agricultural crops, which are to be delimited in future.
Using aerial photograph and direct observation, it is possible to discern the complex planning for the organization of buildings in the space used.
The main building imposed the order and organization that allows us to propose its civil function: a palace, without disregarding the religious one, a lower priority.
Sechin Alto, then Sechin, was the political center of Culture Sechin, who shared it with the Mojeque Archeological Site, located in the valley of Casma.
Sechin Alto, is the most important archaeological complex in pre-Hispanic America, for his herculean monumental architecture and planning, belonging to the Early Formative Period and with an antiquity of more than 1600 years before our era.
Source: Serie Arqueologica Nº 12
Page translated by courtesy of: Carlos Dextre.
---
---
Página web creada el 30 de marzo del 2005.
© Copyright 2005 Gualberto Valderrama C.