Búsqueda personalizada
---
GROUP OF DANCES "PERUVIAN ANTHOLOGIES"
LICENCIADO ALFREDO ANTONIO VALDERRAMA CARDENAS
Jr. L. Valderrama 391 - Santa Luzmila - Comas
Telf.: 536-4621 - Celular(T): 98832483
Presentaciones, Talleres de enseñanza de danzas folkloricas y Alquiler de vestuarios.

---
DANCE: SHARARITAS
This dance is of the department of Ancash, province of Sihuas, district of Huanchi. The shararitas navideña is a dance called navidango, in where it satirizes to the landed gentleman since they somewhat dress and they make gestures like them, but the shararitas do it of an ironic form but. In the dance the black with their negrita festejan the celebration of Christmas since they have permission by eight days, consequently the black with joy greet the birth of the boy Jesus since they dance and sing with all the efervescencia navideña for being the only days of rest with festejo she frees. The black demonstrate their love to dance and to festejar to the end that nor the small children cut the diversion, because they ingenian the form of not losing nor a minute of the celebration, alternating themselves between father and mother to take care of it inclusively and arriving to give him to take chicha thus so that he falls asleep and to be able to continue festejando.
---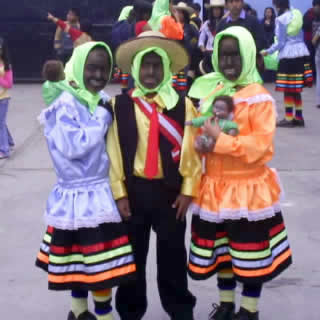 DANZA SHARARITAS.
---

DANZA SHARARITAS.
---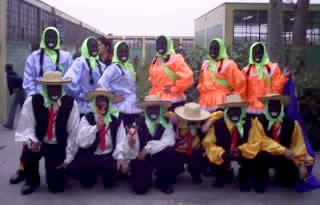 DANZA SHARARITAS.
---
---
Página web creada el 30 de marzo del 2005.
© Copyright 2005 Gualberto Valderrama C.