Búsqueda personalizada
---
HUARMEY PROVINCE
---
The Huarmey township is the capital of the province and is located at Km. 293, by the Pan American highway. It is known as the city of cordiality, for they welcome all its visitors.
---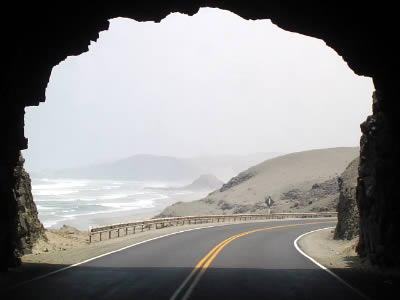 TO HUARMEY
---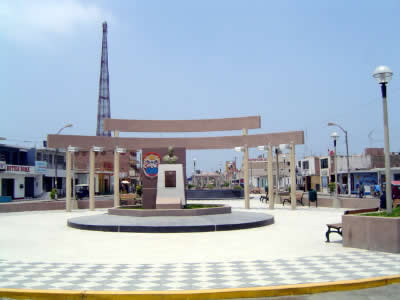 HUARMEY
---
Huarmey possesses a variety of beaches, competing with the best in the country, also archaeological complexes. It has two major rivers: Huarmey and Culebras and also has two ports: Huarmey and Culebras.
Huarmey River
Springs at the heights of the Huamba township, between Totoral and Acucuta Alto, by the confluence of rivers Aija and Malvas; these in turn begin life in the great black mountain ranges of Huancapet?, Cuncush and Hiunac (Aija Province); Panca (Succha district), Shiqui (Malvas district) and Ututo (town of Cotaparaco) leading at the foot of Punta Rota in an extensive sand and mud beach.
Taking into account the Aija river basin, the Huarmey river is more than 90 Km long, but the Huarmey itself is not longer than 45 kilometres.
The Huarmey Valley has abundant water from December to March, its leading production being cotton. The township of Hui?a (district of Huay?n) enjoys of a sunny climate and is a well known fruit producer: mangoes, pacaes, banana and avocado, also it produces beans and maize.
Rio Culebras
This wide and beautiful river is born in the heights of Huanchay, irrigating the valley of Culebras. Alongside this river we can encounter the towns of Quita Sombrero, Ampan?, La Laguna, Quian, Huayash, Cuzmo, Raypa and Colcap. All of them are producers of beans, maize and cassava, supplying the city of Huarmey and the townships of the Culebra district and other cities on the coast, reaching even Lima.
---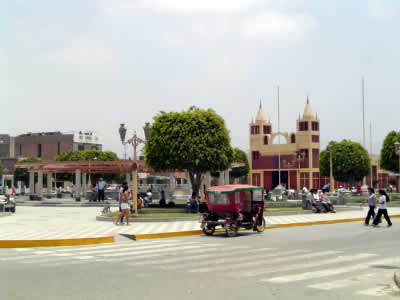 MAIN SQUARE OF HUARMEY
---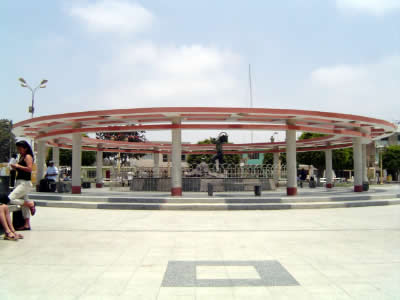 FOUNTAIN IN THE MAIN SQUARE OF HUARMEY
---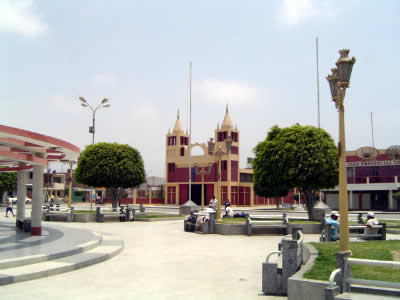 HUARMEY CATHEDRAL
---
Ports of Huarmey and Culebras
They are very important because from there, fishing is done for human consumption and for industrial purposes. It generates jobs and foreign currency for the country. There are fishmeal and canning factories.
---
TOURIST ATRACTIONS IN THE PROVINCE OF HUARMEY
---
Huarmey has several atractives touristics, the most important are:
LOS GAVILANES
It is an archaeological site located near to the beach La Honda, at the foot of a hill where the river Seco terrace ends. To locate it, one can take as a reference point the pillar of Km. 294.9 of the Pan-American Highway. From there, must travel 1,448 kilometers.
The site was discovered by Edward Lanning in 1957 when working for Fr?deric Engel in the Culebras Valley. It was the same Lanning who drew the attention of David H. Kelley to the place, who from the outset took an interest in the area. In 1960 Duccion Bonavia receives the request of Paul C. Mangelsdorf, then Director of the Botanical Museum of Harvard University; to conduct research work, and then to consider the area as one of the most important sites for clarifying the age of Andean maize and their association to agricultural development of the country, providing, among other vegetable waste, significant quantities of maize in various shapes: cornhusks, grains, stems, roots, leaves and whole plants. The age of the maize found in "Los Gavilanes" is estimated between 2200 and 2700 BC.
Alexander Grobman explained that the context is definitely pre-ceramic and allows defining with precision the early presence of maize in the Peruvian coast, thus enabling new contributions to disclose information to study the circumstances of maize in Peru.
Regarding the name given to such site; Duccio Bonavia argues that previously abundant sparrow hawks (Gavilanes) inhabited the place, which currently have disappeared. This name was given from year 1977.
Corn from Huarmey has a real and exact location within the pre-ceramic archaeological context, and this is precisely what is said in the comprehensive study of a group of archaeologists carried out at the site called "Los Gavilanes", highlighting the image of archaeologist Duccio Bonavia, who contributed with his studies to the history of Huarmey, with its important work published in 1982: "Peruvian Pre-ceramic Los Gavilanes: sea, desert and oasis in the history of man."
Summing up, the Los Gavilanes maize is obviously very old, its racial connection with other Peruvian pre-ceramic maize having been established beyond doubt, since it resembles other racial groups in Callejon de Huaylas and Ayacucho.
EL CASTILLO
Archaeological site belonging to the era of the Great Chimu kingdom, is located 1 kilometre east of the city, following the route entering the valley. This important site is going through a critical situation given that their architectural structures, are constantly trampled and desecrated by action of man.
Historian writer Garcilaso de la Vega, in his "Comentarios Reales" tells that Pachac?tec sent his son Inca Yupanqui to conquer the kingdom of Great Chimu, which extended over Paramonga, Huarmey, Santa and Moche. He had an army of 30000 men and the support of the neighbor chieftains of R?mac and Lunahuan?, with whom the Chimu waged bloody battles for land lordship or cultural submissions.
Inca Yupanqui after waging tough battles with the Paramongas, beat them but since his troops were trained only for expansionist purposes, sought help from his father Pachac?tec, to confront those of Huarmey. The distance between Paramonga and Huarmey was considerable and the local warriors had strategic fortifications, to cope with the fight. Today the evidence shows what is known as the "Castle", but it is a cemetery, located on a small promontory that extends over cultivated fields.
This site is made up of a pyramid with terraces whose front looks to a large walled quadrangular plaza; in addition there are a whole range of platforms and enclosed courtyards attached to the pyramid. This complex is oriented southwards which makes it to be considered as belonging to the early formative period. Also, it is said that the vast square in front was added in later times.
El Castillo is located on the right bank of the Huarmey river, 1 km from the city. It is a large architectural ensemble composed of adobe buildings at the top of a rocky spur that protrudes towards the valley, and other structures at the level of the agricultural fields; those are formed by a small square enclosed and a small mound of irregular shape. A funerary mausoleum can be distinguished, made up of a set of funerary units of various measures that contained a series of small compartments with sumptuous tombs of the Wari culture and later periods.
The area occupied is 200 meters by 80 meters, from which you can see the ruins of el Campanario, Pedregal, Macahualaca, Cuz-Cuz, Lecheral, La Laguna, Manache and el Puerto. This important cemetery containing graves is built with adobe and has also a large number of small rooms of different sizes, where the occupants wearing exceptionally rich regalia, appeared to be the lords of the "Great Chimu" feudal kingdom, which we know Huarmey belonged. Some of these tombs having the walls painted red (ceremonial ochre) on a very fine plastering, are listed by scholars as unique in the valley; taking as reference the existence of another similar but better preserved in the town of Huamba, belonging also, according to the evidence, to horizon medium 2-B and the late intermediate (Chimu).
MANDINGA
Located 14 km from Huarmey, near Congon; presents a terraced structure longitudinally elongated and oriented northeast. It has four platforms and also presents a series of front yards in the first platform. In the lowest one can observe a circular square, while the rest of the platforms are distributed in an ascending manner. On this site, there is no pottery.
LECHERAL
These are two pyramidal mounds located in an arid ravine of the same name. The larger of these mounds presents two terraced platforms and is built with rock walls from the surrounding hills, forming compounds which in turn have been filled with rocky material and soil contained in bags, of vegetal origin, called Shicras. Their corners are curves, 10 meters height.
BERNAPUQUIO
It is situated near Huarmey, in the slopes of the town of Coris, and next to another spot called kunkak. With rich grasslands growing under dense fog, which sleeps during the three months of rainfalls, is a lonely place. Its hills are colored, between red-purple and amber and gloomy in the plains and grasslands, which are covered with thorn bushes, without water. One can hear sad whistles of certain birds and see fly huge condors with white collars. The nights are sepulchral silent, only the chants of crickets and moribund cicadas can be heard and fireflies glow in the terrorizing twilight that precarious travelers escape because fateful souls may wander by night,
Bernapuquio, according to tradition and authoritative versions of older persons (Bacilio Zuluoga and Marino Morante), said that the Spanish and Portuguese were in search of gold mines hidden in the district of Coris, whose name derives from Kori (gold). Some people talks about the existence of gold deposits in a place called Janca. Bernapuquio, etymologically, comes from two voices: Bernarda: name of a person, and Puquio: where spring water gushes.
LA COCHA
Located in the Huarmey valley, a 45 minutes journey by car, is a small water mirror surrounded by reeds. According to the season, some wildlife appears in its gentle waters in the form of wild ducks and gallaretas. The place is ideal for a stroll around if you are in search of peace and tranquility,
EL MALTINO
Is a high sand hill, dominating the northern coast of Huarmey, about 5 km. of the city, by the Pan American highway, and near to the district of Culebras. El Maltino is the "hill of gold", where men of all social strata have attended in search of the treasure that long ago Indians hid for the rescue of Atahualpa; it is also known as the hill of treasures.
History notes that in 1926 Don Emilio Servat, found several gold bars that were sold in Lima, to the Casa de la Moneda to make the crosses and medals with which several celebrities where decorated on the occasion of the Nation's centenary.
About the origin of the name Maltino there are not many versions and what can be said about its similarities are only speculations. The spiritualist Cipriani X Rubira gives an account of the name in letter he sent to writer Ernesto Reyna Zegarra in 1927, Before Norma's avaricious attitude, the old treasure hunter says, "You are proceeding to do this writing with mal - tino." Since then the hill of treasures has been called Maltino.
---
BEACHES IN HUARMEY
---
Huarmey's exotic coastline houses beautiful beaches that are constantly visited by tourists, especially at New Year, Saint Valentine day (14 February) and Easter where the nights in the Tuquillo spa are illuminated by bonfires made by campers, who come to enjoy the gentle sea and waves, the whiteness and warmth of its fine sand, for which this part of our coastline has been baptized the "Costa virgen," a hidden treasure, far away from the tumult and noise of big cities. These beaches have been rated as the best and most clean beaches nationwide.
MANACHE SPA

Manach formerly was a tourist resort, very busy, having beautiful houses built of "Quincha" (mud smeared over stalks), in elegant color. Manach was the unique local beach, until the Mayor and other politicians promoted another coastal area, developing it as a new resort north of the city, named TUQUILLO. Maybe the Manach spa could regain his past life and brightness, when avenue Alberto Reyes reaches the shores of the beach.
TUQUILLO
Once the area for the new spa was developed, the site was equipped with breakwater and electricity, a novelty for the time. TUQUILLO spa is a nice resort, a haven of peace, due to his calm waves and warm sands. There you can relax and enjoy life; the scenery looks a sort of giant lagoon with moderate waves and fresh water.
---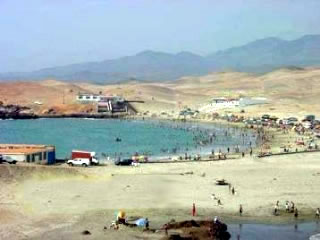 TUQUILLO
---
ANTIVITO, MARACANA, LA POSITA
They are beaches neighboring the Tuquillo spa, offering ample diversity for tourists to choose where he wants to spend the summer: "La pocita" and "La Conchita" are for kids and family; whereas Maracan? and Antivito are ideal for brave surfers and adventure lovers. North of Tuquillo there are other small beaches such as "los Medanos", ideal for campers wanting to enjoy a solitary beach day. This area is also good for "Shellfish" gourmets.
Other recommended beaches are Bermejo, Tamborero, Las Salinas, Castillo, Parillo, Las Zorras, Gaviotas, Infiernillo and Gramadal.
Page translated by courtesy of: Carlos Dextre.
---
---
Página web creada el 30 de marzo del 2005.
© Copyright 2005 Gualberto Valderrama C.